Athletics ( Javelin )
Double Olympian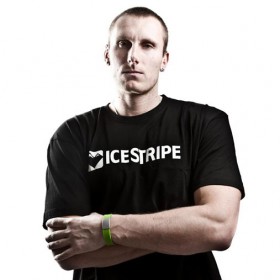 General characteristics of the athlete:
Grown discipline : Athletics ( Javelin )
Birthday: January 18, 1983
Height: 200 cm
Weight: 112 kg
City of origin: Gdynia, Poland
Interests: Music, movies, games, electronics
Best remembered start: World Championship in Jamaica
Favorite meal: Chicken breast
Favorite form of exercise: Any form
Favorite place to workout: Stadium, forest, gym, beach
Some questions about ICEstripe:
Why do you wear an ICEstripe?
I wear the ICEstripe for security reasons. I think that some vital information about us should always remain visible. ICEstripe makes it possible, plus it looks great.
Preferred type of ICEstripe?
Elite, especially the black coloured one, appeals most to me.
What success in your career do you consider most important?
No doubt a great success was winning the Junior World Championship in Jamaica. Those games have launched my career. They have become a driving force and motivation to continue and work even harder on myself and sport results.
Key successes:
Junior World Champion (Kingston, Jamaica in 2002)
European U-23 champion (Bydgoszcz 2003)
Silver medallist at the U-23 European Championships (Erfurt, Germany 2005)
Universiade World Champion (Daegu, South Korea 2003)
Universiade silver medallist (Bangkok 2007)
Universiade bronze medallist (Shenzhen 2011)
7th place at the World Championships (Osaka, Japan 2007)
6th place at the European Championships (Helsinki, Finland 2012)
16th place at the Olympic Games (Beijing, China 2008)
19th place at the Olympic Games (London, England 2012)
3rd place at the European Cup (Malaga 2006, Munich 2007, Annecy 2008, Leiria 2009)
Gold medal at the Winter Cup (Tel Aviv, Israel 2006)
Polish Champion (2007, 2008, 2010, 2012)
Polish Championships silver medallist (2009), Polish Championships bronze medallist (2005, 2006, 2011, 2013)
Polish junior record holder
Personal Best 84.76m